Tutorials and Class Materials
This page contains information on learning to use breve, and on using breve in courses.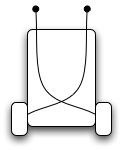 Tutorial: Braitenberg Vehicles
Braitenberg Vehicles are an excellent introduction to reactive agents and an easy introduction to breve, even for users with no programming experience. Braitenberg Vehicles are small vehicles which exhibit sophisticated behaviors from extremely simple circuits. Implementing a Braitenberg vehicle in breve takes only a couple of lines of code.
Coursework: Artificial Intelligence in 3D Virtual Worlds
Lee Spector and Jon Klein (the author of breve) used breve in the spring semester of 2004 to teach an artificial intelligence course at Hampshire College.
The course covered roughly the same material as is covered in other "agent based" introductory AI courses, with an emphasis on reactive agents, neural networks, and evolutionary computation. Traditional AI topics such as knowledge representation, heuristic search, planning, and logic-based approaches were also covered but in less detail. The primary novelty of the course was that students worked within a 3D simulation environment, creating programs to control agents in an engaging, dynamic, and visually rich virtual world.
Learn more about the course and download the course materials.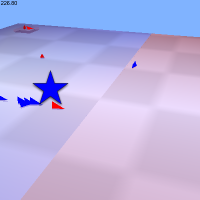 Coursework/Group Activity: Capture the Flag
An excellent group project for users who want to learn about working with autonomous agents is Capture the Flag. Users create their own simulation behavior strategies to try to win a simulated game of capture the flag. The project introduces basic agent-based programming concepts and discusses how to implement agent behaviors in the "steve" language.
Read more about Capture the Flag in breve
Submitted by jk on Sun, 2006-09-17 15:35.